If you're a Saddlebred enthusiast who ever thought that they "don't breed like they used to", here's the stallion for you!

Sundance Prince's 5 generation pedigree includes 5 instances of Society Rex (Kalarama Rex x Spoonbill) and 5 to the mare American Sundance (American Born x Edna May's Delight). With the two instances of Sun Beau and going back a few more generations, you have 7 times descendant from the great stallion Guided by Love.


I thought Martha might have finally crossed into senility when I found out she crossed half-siblings. I felt it was taking line-breeding too far until I saw "Prince".  I haven't been able to find a flaw in his conformation or temperament.  He really is a testament to the quality of his ancestors.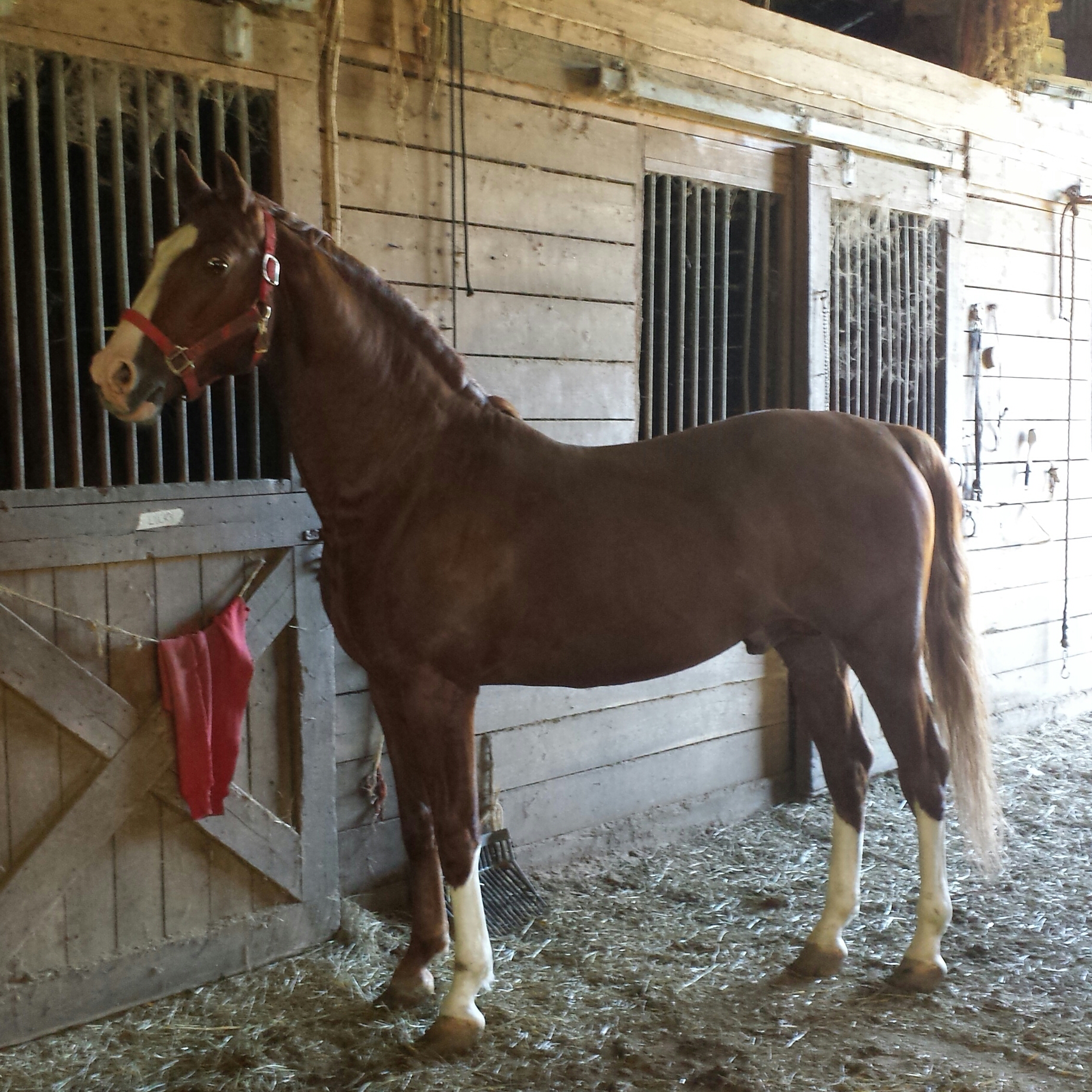 By Irish Sundance and out of the winning 5-gaited mare Princess Sundance (Sundance's Apollo x Miss South Carolina by Valiant Society). 
This awesome stallion has never been shown due our personal circumstances. 


SUPER OUTCROSS TO THE VALLEY VIEW SUPREME LINES

View his full pedigree at: 
http://www.allbreedpedigree.com/sundance+prince

Standing Private Treaty
 
---
IRISH SUNDANCE deceased Sire of Sundance Prince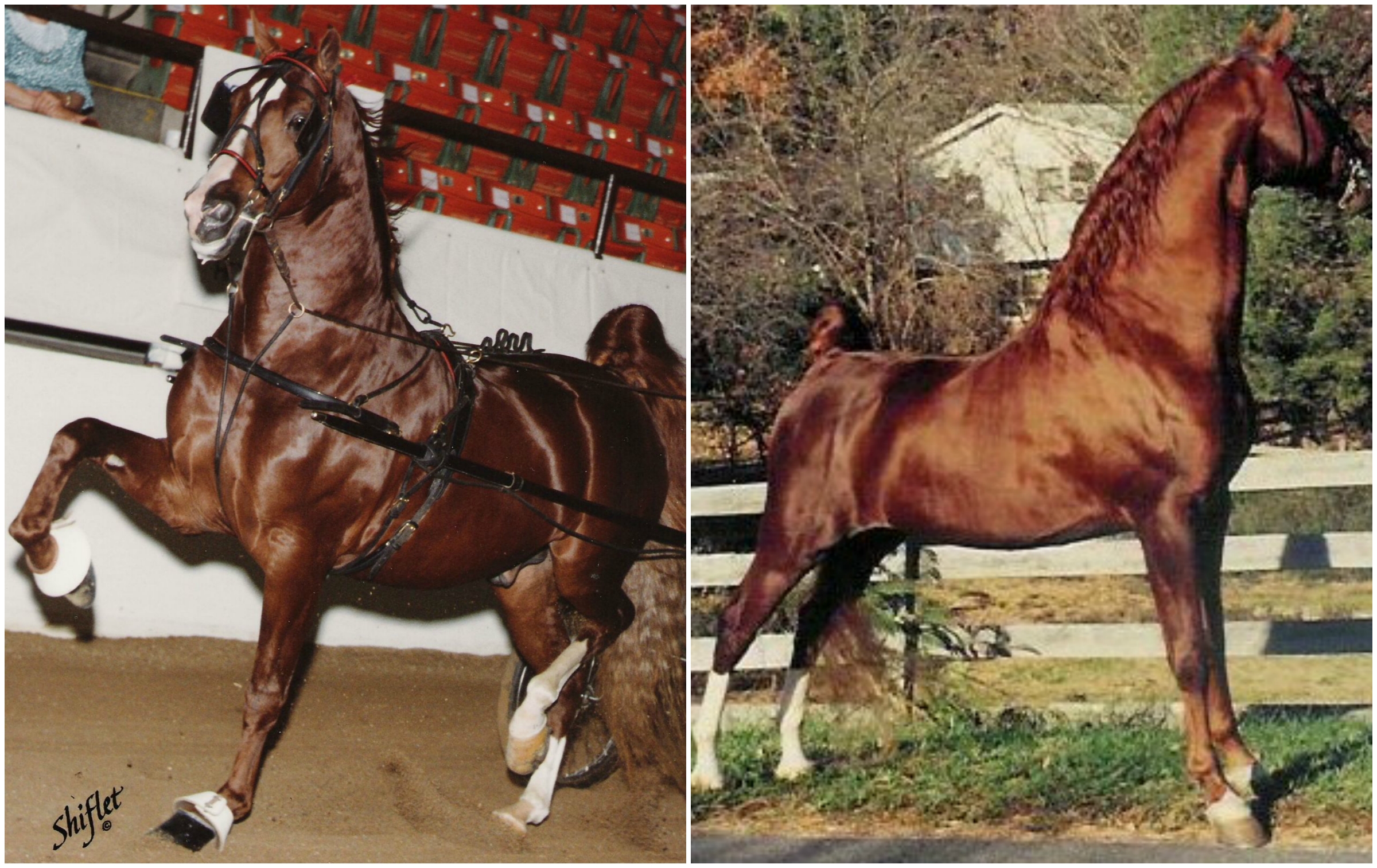 Sundance's Apollo 54495 x Shamrock Belle 75160 by WC CH Gallant Guy O'Goshen 34518 
Sire of Sundance Prince.
Irish Sundance 85758 is a handsome American Saddlebred stud with a rare but top quality genetic pool. Below are three of his get, all only half-siblings. He makes an excellent outcross to Supreme Sultan, Wing Commander, and other prominent modern bloodlines due to his unique quality lineage. His talent and great temperament have been passed on to his offspring; his few offspring have been a pleasure to work with and have done well in the show ring.

Pictured below after being  paddocked  for about 10 years, Caesar's natural talent shows through. He is presented by a juvenile rider using a snaffle bit and wearing lightweight keg shoes. Special thanks to Bob for snapping this great action shot. I never knew that action shots could be taken on a Polaroid!





.
photo by Doug Shiflet


Irish Sundance's sire, Sundance Apollo (pictured on About Us) is by The Golden Rule and out of Radiant Sundance by Secret Society. The Golden Rule's sire, Special Society, was one of the first Saddlebred studs exported to South Africa following an undefeated Sunshine Circuit in Open Five-Gaited division (with shoe weight of at most four ounces). Special Society was a foundation of the Saddlebred breeding in South Africa. These lines are now being imported back to the states to enhance breeding programs all over the country. 

His dam, Shamrock Belle is by 6 times World Champion Stallion CH Gallant Guy O'Goshen.  She is a full sister to the winners: Irish Shamrock, Super Guy, and the World Champion Producer Carolina Shamrock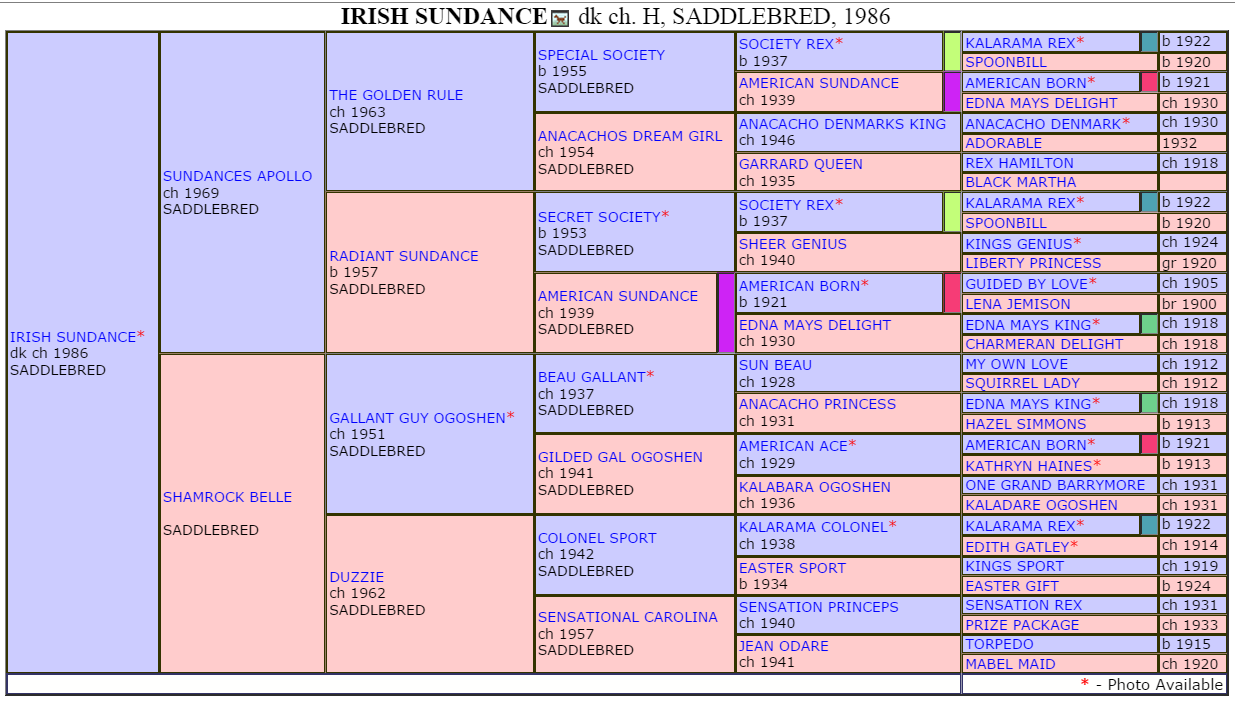 For a more extensive look at his pedigree go to
http://www.allbreedpedigree.com/irish+sundance


Natural coverage or transported semen available.
---
OUR MINATURES
Sundance Manor Farms, LLC is now limitedly involved with the Minature Horse Breed.  The purchase of Spring Valley's Hot Shot, a beautiful, sweet black mare, for our party & lesson programs also gave us  her 2 handsome sons, Echo & Pistol.  Both were such nice colts that they were left stallions.  Martha and LaClaire had originally planned to show both colts but due to their hectic schedule they are both unshown.

Echo is a Piebald Pinto (Black & White) that has manners, motion, and personality.  Everyone who sees him comments on how nice he is.  He never met a stranger, is usually easy to catch, and very handsome.  He is so people oriented and smart we think he might be able to be a guide horse with proper training.
 
---