Riding and driving lessons is one of the most economical ways to enjoy horses.
Our lessons are for recreational or competition riding and are given on a variety of breeds including the versatile American Saddlebred.  We teach Saddleseat, Hunter Seat, and Stock Seat (western) equitation, which is judging the rider.  The style of riding was developed for safety reasons so if you are one who wants to do recreational riding, proper riding makes your experiences with horses safer.  There is no pressure on students to show and our extra curricula activities include but not limited to trail riding, tournaments,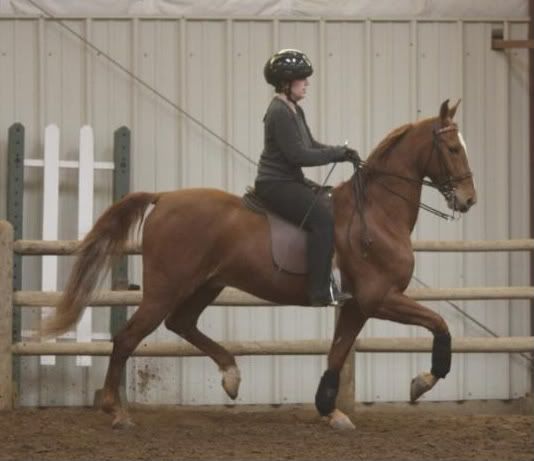 clinics, shows,
and other equine events.  Those who select to show are usually very successful winning first in everything from schooling shows to A-rated shows in both riding and driving. 
   Some of our staff's previous students are now World Champion trainers and instructors, some do their own training and won World Champion title, while others have successfully competed in Endurance Competitions winning some big ones.  Our farm teaches Thinking Horsemanship from our "horse whispers" on staff.  One enrollment allows you to ride at both farms as well as be allowed to participate in the extra curricular events offered through either location.
Saddleseat is an English style of riding
that is used on many breeds.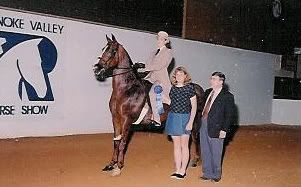 Through the years we have found this seat to be the best to learn first so that you are able to ride the widest variety of trained horses.  There are techniques of the other styles of riding that will get you in trouble if the horse is not trained for that discipline.  One of our students, who had more than 15 years of hunter experiences, operated a public hunter barn, got in trouble when invited to trail ride her new neighbor's TWH type racking horse.  The horse pitched a fit, which shocked the horse's owner and the rider.  The hunter rider called us and we taught her saddleseat.  We have not seen the horse, but the "hunter rider" riding saddleseat returned and successfully rode her neighbor's horse.  This is the style that is used on the fun, fantastic, five-gaited horse as well as many other divisions and breeds.  
(Photo by Doug Shiflet)
Hunter Seat is another Englsih style of riding
,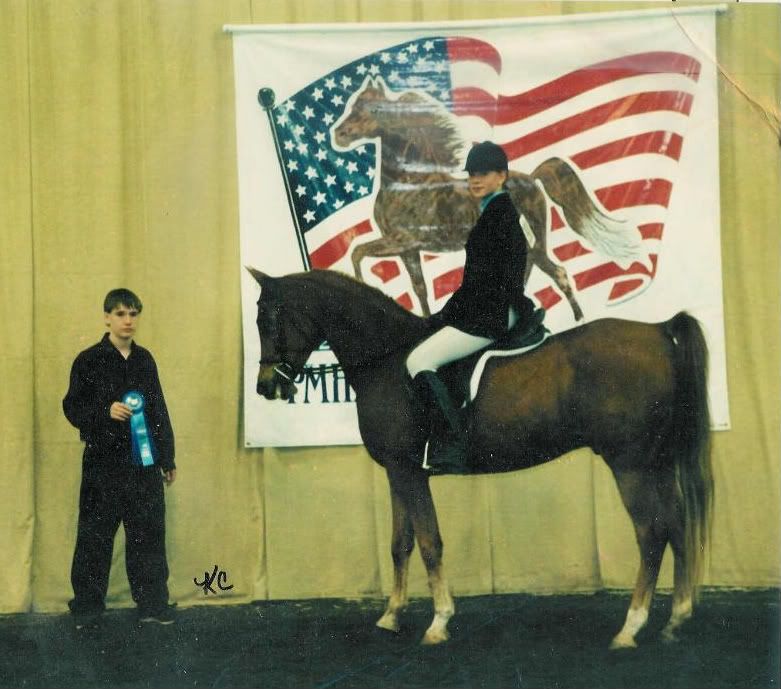 that has some increased danger over other styles since you are going over "jumps."  A few minor changes from saddleseat puts you in the correct style to jump fences in either the hunter or jumper divisions.  Both divisions make the horse and rider jump over a series of creative fences but they are judged differently.  The hunter division is more exhibitor oriented than jumper since hunter is judged how they approach and arc over and leave the fence.  The jumper division challenges the pair in a different way and the fences can go much higher than that of the hunter division.  Due to the division's objective, there are some difference of the fences and courses.  
(Photo by KC)
Stock Seat is western
equitation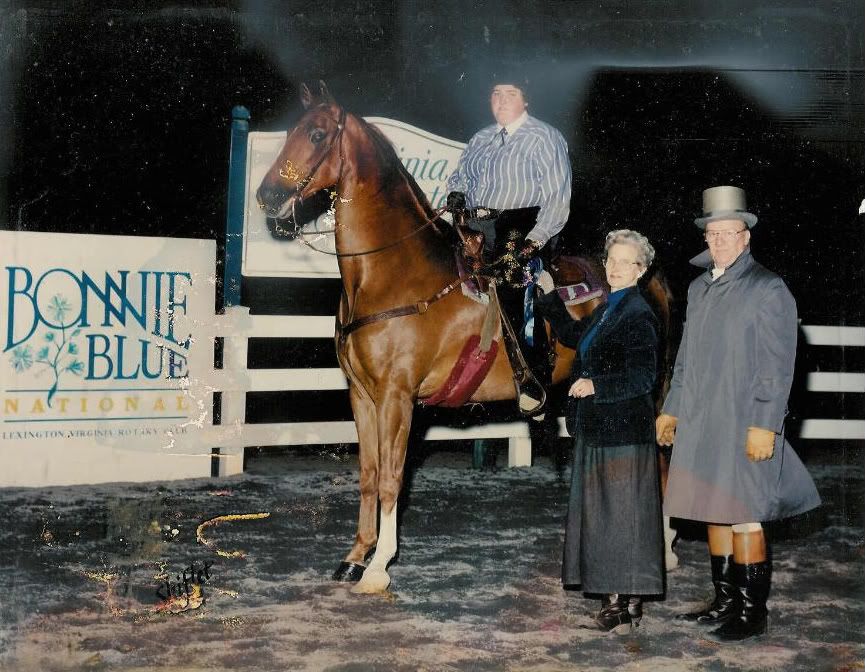 and once again there are minor changes from saddleseat. 
We train horses for western pleasure and working western pleasure but we do not currently train reining horses and rodeo events. 
We have students who successfully ride all three seats.  Most of those that are in this elite group say they prefer saddleseat.  Over the years we have worked with many horse lovers.  Some have had negative experiences prior to calling us.  With our individualized instructional program, we have been able to help the rider overcome their fears or problems created by lack of knowledge or a negative experience.  Sundance Manor Farms is one of the few lesson programs that has an instructor with a
Masters in Education from UVA and 26 years of classroom teaching experience
.  The advantage to our students is a flexible lesson program to suit the needs of the individual rider. 
The cost of lessons depends on the plan selected.  Plans can start as low as $10.00 per person, which is a great deal for you and your horse loving friends or family.


Discount Lessons does not mean lesser time or quality.

These lessons are taught by Apprentices, if one is available, that have shown an interest in teaching riders/drivers and training horses.  They have been hand picked for their responsible, safety conscious nature and knowledge.  The apprentice is under the supervision of a Master Instructor and the same great lesson horses are used in this program as the regular program.  The benefit to you is a great discount on lessons.  The benefit to the apprentice is more valuable teaching experience.
 
WANT TO HAVE A HORSE PARTY? 


Our PARTY LESSON PROGRAM is the answer.
 
We can customize a party for you!

Children to adults it doesn't matter.  We have horses and ponies to fit most riders.   
Have it at either of our farms or we will bring the animals to the suitable location of your choice.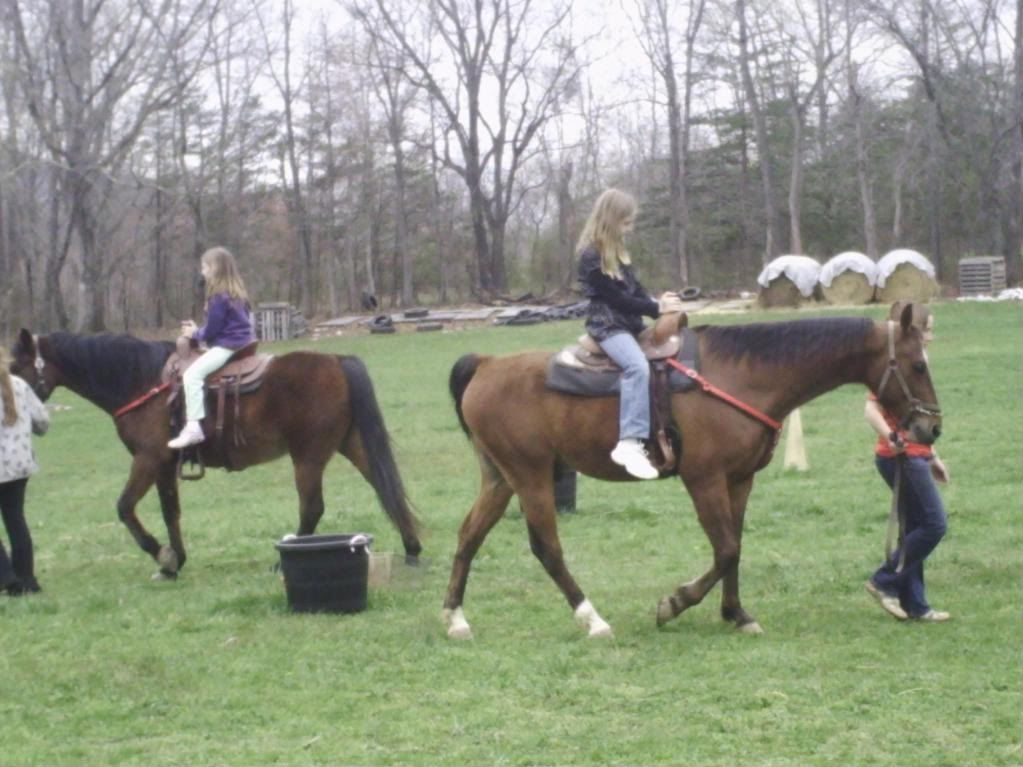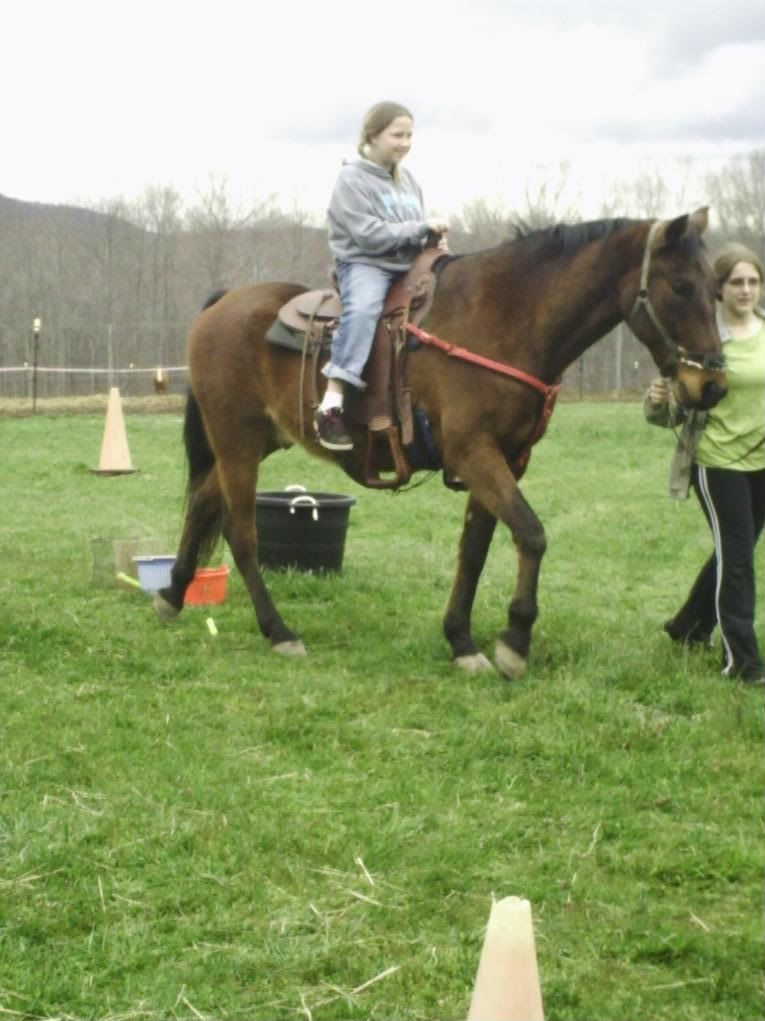 Party lessons are designed for a mixture of horse interest participants with more riders than horses or ponies.  There is an easy simple lesson about horses and riding to keep everyone safe and happy with lots of FUN, FUN, FUN.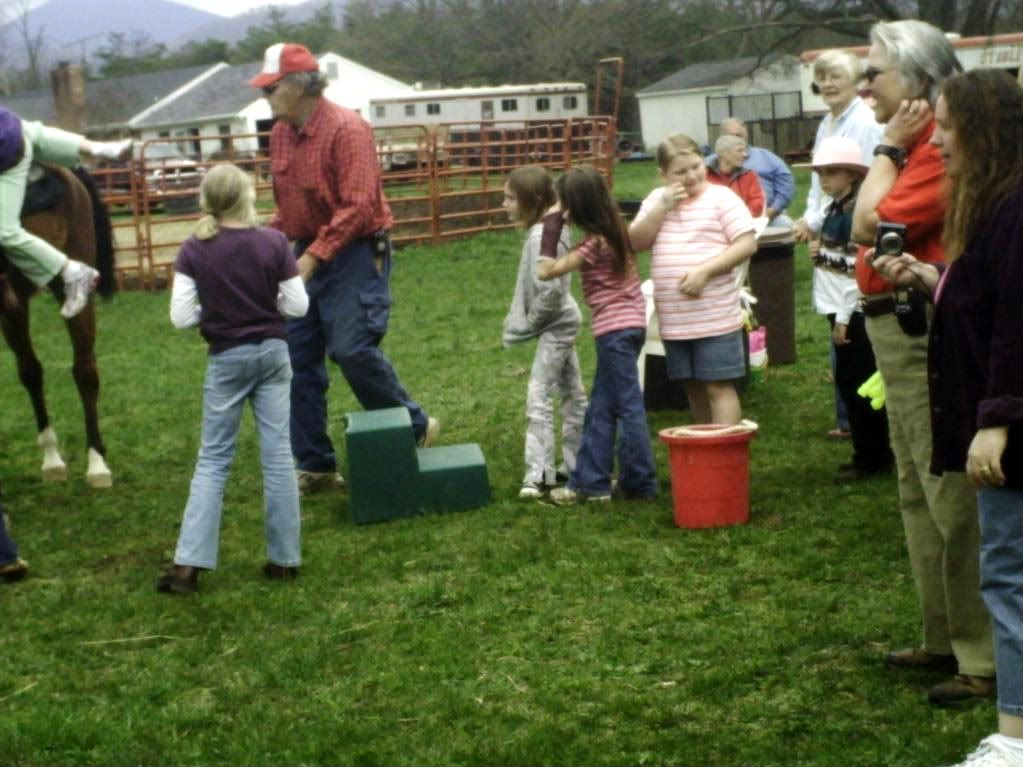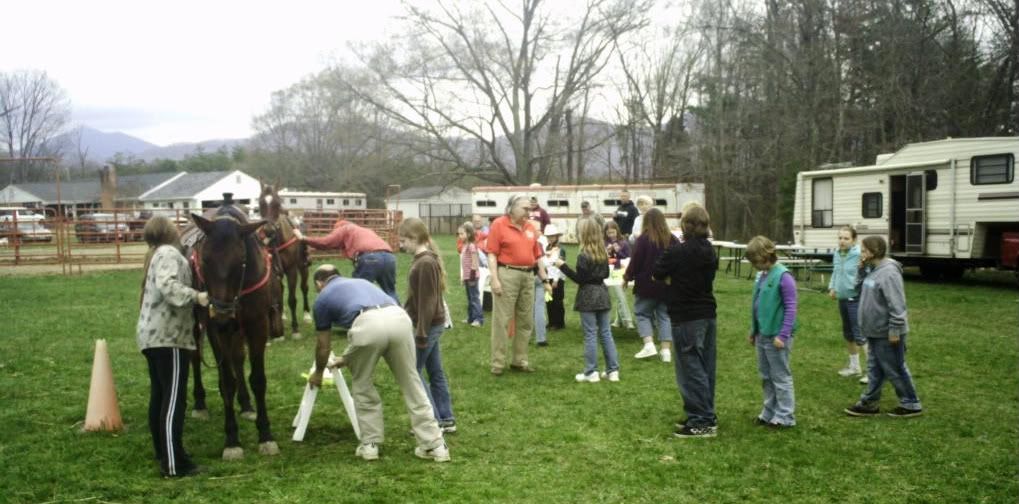 Participants will practice the lesson while having lots of fun riding the course and teams compete!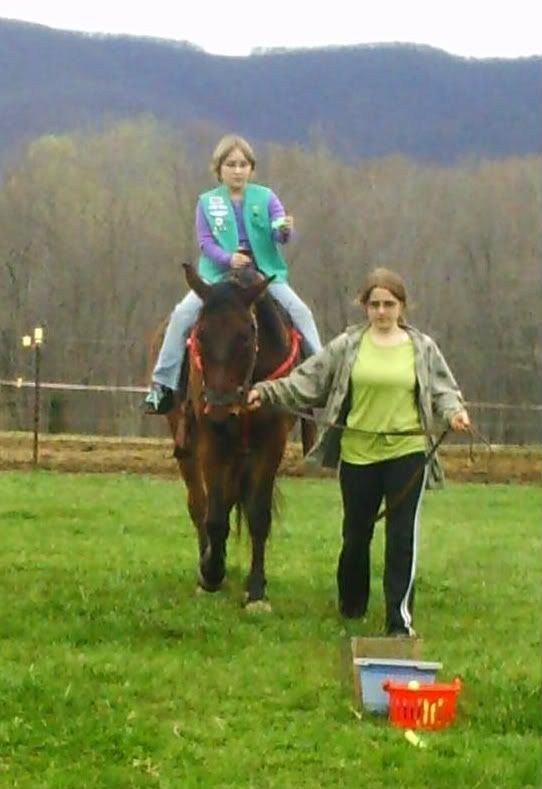 FREE registration or rental to invitees and their immediate family members is the farm's gift to the Honoree and his/her guest.
Horse Camp lessons are an excellent supplement to a lesson program.  In camp the participant not only experiences riding but also many other lessons with and about horses.  We put safety first so each camp is different since we have to gear the camp to the skill level and muscle tone of the participants.  Campers ride daily and some campers will experience how to care for horse and tack while increasing their vocabulary so lessons are more meaningful.    Some campers have prepared for shows, including learning how to give an equine haircut, and showing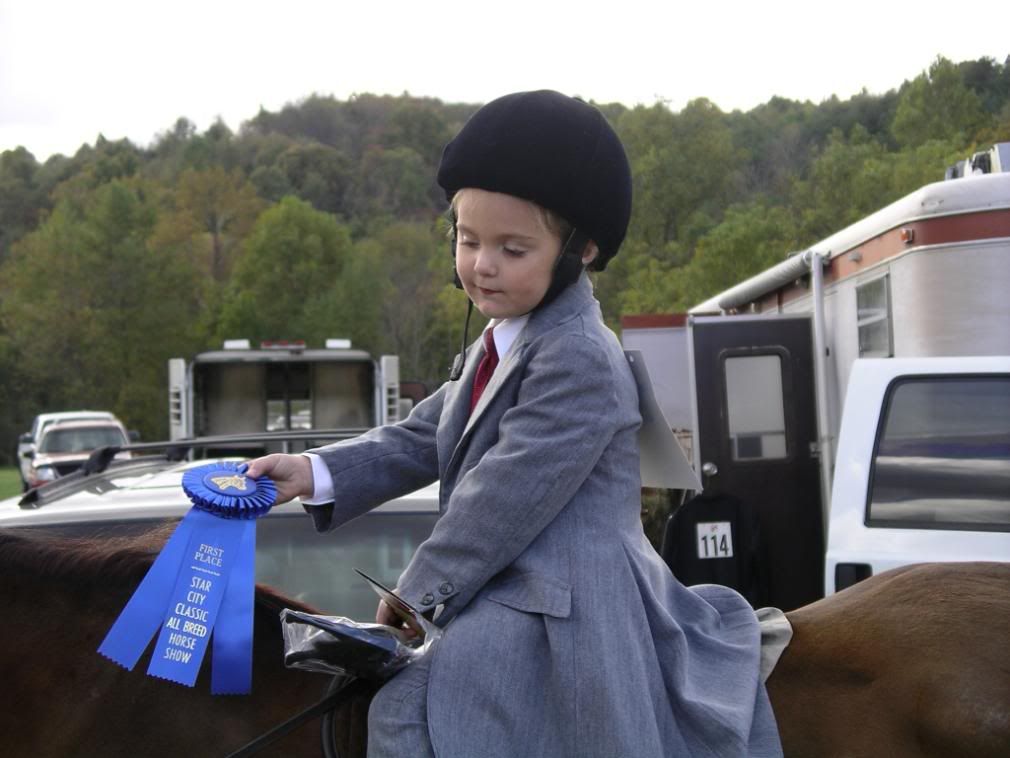 while other experience trail riding
 and driving a horse.  Daily summaries are available when the campers are picked up, just ask.  Each participant will receive a Sundance Manor T-shirt.  For that reason we give a tuition discount for those who pay early.  Hold your space with a $30.00 nonrefundable camp registration fee.  Early full tuition gives a discount.  January payment receives a 20% discount, February payment receives a 15% discount and March receive 10% discount.  After May 15th, full tuition must be paid at registration and we cannot guarantee a shirt at camp time if you register for camp after May 15th.  With our discount program our camp starts at $150.00.  Full tuition is very reasonable.  Camp Registration Form and dates under the camp pop up button.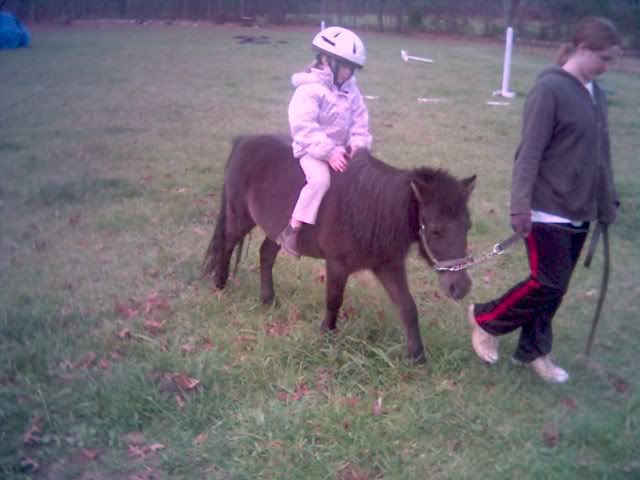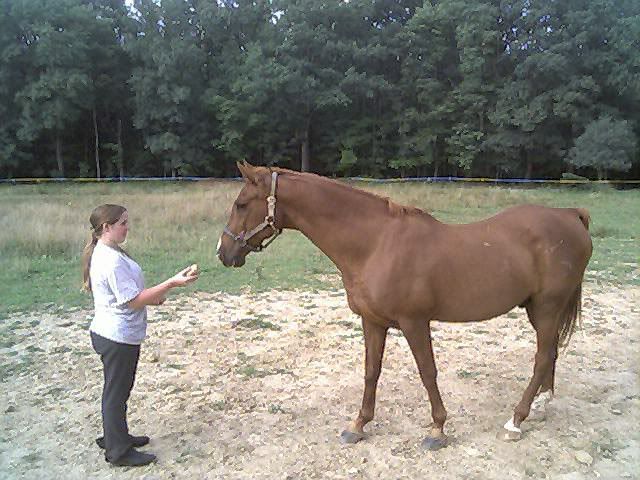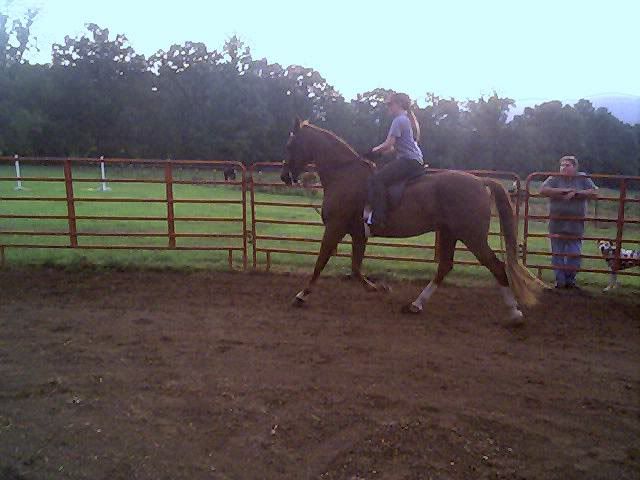 Training Lessons
are available once your skills reach a certain level and you are psychologically ready.  Participants may choose to learn how to develop a horse from birth to In Hand Showing 
 through the ground work to working undersaddle and/or driving.  If you are in our riding program and express an interest in training then we do not test you, since we know your skills and readiness.  However, if you are coming from a different riding program or no riding program, then you will have to pass a readiness test, unless you furnish your own horse.  If not ready you may need to go in our pretraining lesson program.   In 2007-2008 Virginia Winter Tournament Series we had two participants from this program showing.  
  The Junior Exhibitor's (JE) horse had been shown once two years before this series.  The adult participant showed four horses including in the third tournament the horse the Junior Exhibitor showed in three of the four tournaments.  The other three horses had never been shown prior to this series. Both riders improved their horse's performance in each tournament and
both riders won medals
against riders riding seasoned school horses.  This is a testament to the skills of our riders, and the thinking and attitude of our homebred horses and ponies.  The adult showed the Junior Exhibitor's horse in the one tournament the JE missed and the ADULT rider won outstandingly the Advanced Showmanship class.  The Junior Exhibitor won several medals even though she missed one of the tournaments.