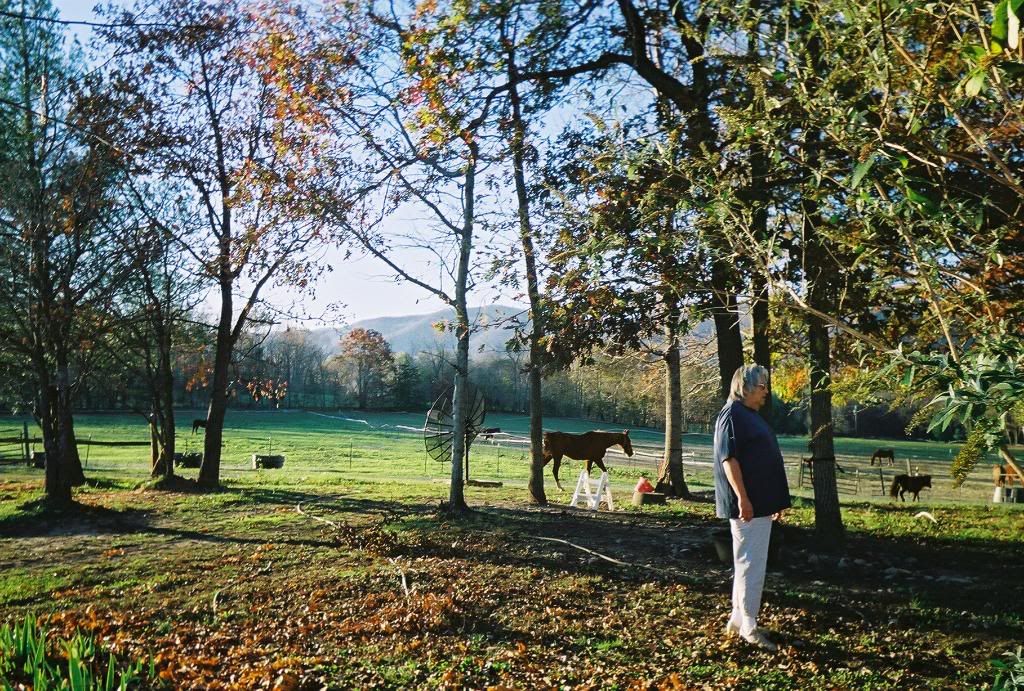 Our facilities include two farms, one in the Glenvar area of Salem, VA and the other in the Blue Ridge-Montvale area.  Glenvar has an oval 130' x 230' riding ring. This is about one tenth of a mile track.  It also has 12 stall main barn, a 50 ft. round pen, a turn out "stud" run, and turn out paddocks.   Glenvar is set up with multiple riding areas.  Not only do you have the Big Ring, but we are also able to ride in the barn, and around the barn on the all weather footing.  Neither of our facilities are fancy but are very functional as we put the care of the animal first.  Stall boarding and/ or training are available at Glenvar. 
Sorry currently the only Board available at Glenvar is in conjunction with our breeding program.
  Stalls at Glenvar are 12' x 12' and a 12'x16' (extra cost) is available if needed.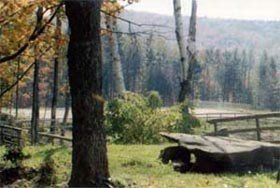 Our Blue Ridge Farm is a trail riders dream.  A Jefferson National Forest Trail Head is riding distance from the farm.  You may ride from this farm to Natural Bridge, VA on some of the great trails our early Presidents rode, around 75 miles, plus a multitude of trails in other directions.  We are located in the area that the Beale Treasure is said to be located.  Who knows maybe you will find it! The riding ring at Blue Ridge is around 100' x 57' also set in an oval.  Blue Ridge also has a roughly 200' x 100' grass area that is designated for riding behind the pipe ring.  There are 3 large pastures that you drive around coming into the farm and on the other side of the house are several paddocks. The drive is gravel to make it safer for you and your horse when riding out to the trails.  The current barn is an old cow barn that has been converted to serve as double use of emergency stalls and storage.  
All boarding at Blue Ridge is currently pasture for mares and geldings only.  Training is also available at Blue Ridge.
  The Blue Ridge Farm does currently offer limited horse trailer parking to its boarders.  Blue Ridge is a great deal for our customers since we do not cut the quality of the feeds to the pasture horses -- even if they are not "show horses". 
Good nutrition and care give you a happier and healthier horse.
Both farms have regular visits from the farrier.  If you prefer, your farrier may come for your horse.  
All horses must be wormed, vaccinated and maintain a negative Coggins Test
.
This is for the protection of your horse and your pocketbook.  Preventive Care is much cheaper than treatment.  We prefer to keep all basic vaccinations on the same schedule but
worming must be kept on the same schedule for the herd
.
  It is waste of money to administer dewormer to your horse when another person has not maintained their horse's deworming schedule and is in the herd reinfesting your horse or our horses. 
To maintain this group schedule properly, Sundance Manor will purchase and administer the necessary wormer at each owners expense.
  Scheduling of the vet may be done through Sundance Manor at the owners expense to take advantage of any multi client discounts the vet may give on the farm call or vaccinations.  
Our programs are convenient to many major roads such as I-81, US-11, US-220, US-221, US-311, and especially US-460.    You can find fancier facilities, but look closely at the condition of their horses of all ages from birth on and you will find that their care is not slighted.  Even the equine geriatric
semi
 retirees, ages 60+, 38, 36, 35, 34,33,32,31,30,29, etc., were, when God called them, and are in excellent shape for their age.  Some are still working lessons.